Sandpiper Travels
Sandpiper birds are perfectly evolved for their manner of living. They have these spindly, yet long graceful legs to assist them in wading into the surf while their prolonged, pointy beaks dig below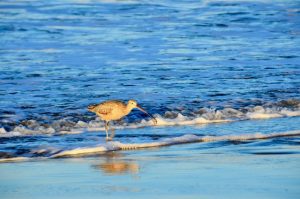 the surf and sand in search of exciting morsels to digest. They make for enjoyable 'bird watching' as they socially flitter across the surf in their little groupings, amicably bleating away as they run from one find to the next. (Sandpiper Travels)
It occurs to me that our day-to-day living while on our Lower-48 Adventure isn't much different than the Sandpipers. We've filtered from one beach to the next in search of 'good eats,' great views, sun, sand, warmth, and a good chat with our fellow Sandpipers. I guess ours is a bird's life.
High Adventure on Highway One
We arrived at our parking lot turned RV Campsite in Morrow Bay. The drive down Highway One was harrowing. The road is clearly negotiable in such a large rig. Still, the travel is extraordinarily slow because of all the 15 MPH hairpin turns. Using the turn-outs every five minutes to let the long line of cars pass is tiring. The views are stunning, but the precipitous cliffs meters from the passenger's side of the road make for a very nervous passenger; nervous passengers are rarely fun to travel with. We won't be doing that again, at least not in an RV.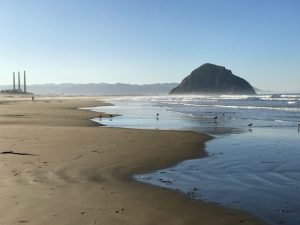 Our RV parking lot campsite is perfect! It is literally across an alley from the dunes and bay's beaches and the famous Morrow Rock that dominates the shoreline and village. The proximity to the beach is so alluring that we delayed our departure across the desert for another two days. We relaxed in the shops and restaurants and of course on the beach. We enjoyed Ursula's 26th birthday with a casual, untroubled contentedness.
Chilling Out
Even the sea otters in this town are chilled. They hang out in small packs throughout the marina, floating on their backs, catching a few rays, and posing for tourists. Azzuri is learning how to walk the sand-dunes and beaches. She also collects about as much attention on her leash as the local sea lions. She doesn't walk a leash like a submissive puppy, but she's pretty trainable and makes a respectable job of it.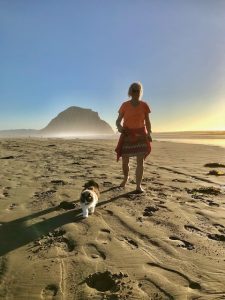 Into the Hinterland, really
Tomorrow we head East, into the desert. The first stop will be Barstow for an overnight stop at the Marine Corps Supply Depot, then into Vegas to visit my Aunt and Uncle. I haven't seen them in 10 years; Ursula has never been properly introduced. It'll be a nice family reunion.
Stay tuned
A few more RVing Tips.
– Tiffen Envy.
In the military, we always exhorted Soldiers to 'continuously improve your fighting position,' for you never know when you may really need that extra bit of attention. I think in RV traveling terms, that equates to paying constant attention to your rig and finding little ways to make life more efficient: a sewer hose extension so you can park on the level spot that's too far away from the drain in-ground; a sizeable welcome mat at the entrance door to wipe off your dusty shoes; little tools prepositioned around the RV, so you don't have to dig out the heavy toolbox in the back whenever you need to do something….and the list is endless. This causes you to closely observe what everybody else around you is doing, how they hook up their campsite, and, naturally, what they're driving or towing.
I have to admit, there must be one hell of a lot of money in this RVing lifestyle. Some of the motorcoaches and trailers parked around the park are incredibly luxurious, not quite hedonistic, but most certainly more expensive than the average American house. My thought is 'good for them and their ability to live a good life, but it also makes me wonder, if they can, why not me? Bad move! Envy sucks! Our little RV has everything theirs have, except it's smaller, less modern, and a bit older. It has plenty of function over form. But, it makes you wonder….what if……? I guess the point here is to know what you need to travel happily and be happy.
– Clean RV.
If you don't clean your RV every moment you get a chance, it's very untidy, and the floors are dirty. If you tend to your RV every moment you get a chance, it's very untidy, and the floors are dirty. Somehow living on the road is an untidy and dirty venture. While my Best Girl would disagree with me, it's an inevitability; get over it!
– Cabin Fever.
We have a winter problem in Alaska with Cabin fever. Some folks rarely leave their homes in the winter unless it's necessary (work, shopping, etc.). Nomading can be similar. Even with the beach yards from your door, it's too windy, it's too hot, the damned fleas are everywhere. The walk into town, is it worth it? Cabin fever while Nomading can also be a challenge. I guess the trick is to force yourself into the element you purposefully inserted yourself into. Enjoy the heat and dirt and fleas,,,, along with all the wonderfully unique aspects that you came to visit. Get out! Often.
A few pics from the area (sandpiper Travels)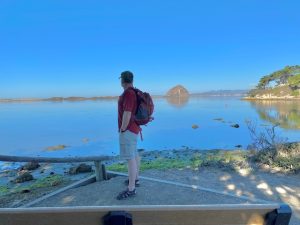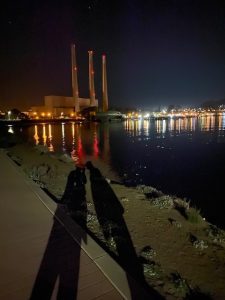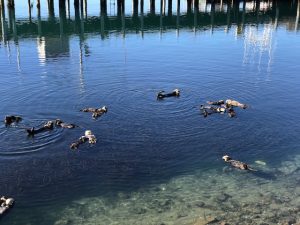 Related Links
Read the previous blog, Link Here
Read this blog from the beginning, link here
Visit all the Nomading the Lower-48 Blog, link here
If you enjoyed 'Sandpiper Travels'.', drop a comment below.