San Francisco and South
I left off with the last Blog in an unplanned RV park in Vacaville, Ca (Cow Town in Italian). Serendipity struck again! It turns out one of my old TF-160 buddies lives in the town and joined us for the evening for to enjoy Beer and Burgers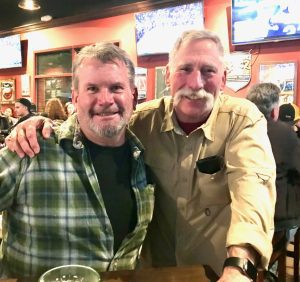 . It was great to catch up, chat about what old soldiers chat about, and meet his new special interest. Thanks, Mr. T. It's visits like this that make all the wear and tear from the road worthwhile. (Frisco and South)

If ever you find yourself in an unexpected RV park in Vacaville, drive up to the beautiful little village of Winters; it's worth the tour, and the Nut Orchards along the way make for some great scenery.
Frisco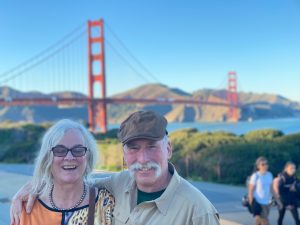 So, after we visited with Mr. T and relived the old Warrior days, our courage was up, and we decided to visit San Francisco. We found an RV Park on the other side of the Bay (Marin RV Park) co-located next to a ferry terminal with daily trips into the city. Traveling to SF by. ferry seems to be the quintessential way to visit; you get to see it from the Bay, visit, and leave by the Bay while passing San Quentin and the infamous Alcatraz prisons. Much better to see them from a boat than from the inside.
San Fransisco is Marvelous! But you probably already know that, so I'll save the opinionated descriptions and stick with the narrative. We visited the Golden Gate Bridge, China-town, Union Square, Haight-Ashbury, the old Army Base of Presidio, Lands End, and the trepidatious Market Street walk after the sunset. We also caught up with Ursula's childhood friend from Vorarlberg, who lives south of the city. Mr. H met us in one of the old clubs in the Presidio, turned new restaurant, and then gave us the perfect window tour from his car. We saw far more than ever we could have managed by foot alone.
It's impressive how the City transformed the old Presidio Base into a magical park enjoyed by thousands. I was really happy to see that they did not take this pearl of a military base and partial it off to real estate developers. As such, it's an absolute jewel for the City.
Zombie Land?
After a day of clean streets, energetic tourists and locals, and a completely safe feeling while walking the day, we didn't realize the ghouls and zombies come out at night. I guess we've been away from big American cities for too long. Throughout the day, I discovered that the hyperbolic news reports that the homeless have taken over the city and streets filled with tents and feces and needles was just that, imaginative hyperbole. We saw none of it, absolutely none, and we covered a lot of ground.
However, the walk back to the ferry from Haight St and along Market St. after the sun dropped beyond the sea changed everything. We love SF during the day. I'm not sure we'll ever visit during the night. The best way to describe our experience is to watch the old Charleston Heston movie, 'The Omega Man.' Ok, that's a bit of hyperbole too, but in some ways, not far off.
The trip into the city was absolutely worth the adventure, and we enjoyed ourselves and the city immensely. Fellow Nomads, it's a visit not to miss.
Further South
After experiencing the orderly traffic in the city (it's not like trying to drive in Istanbul or Seoul or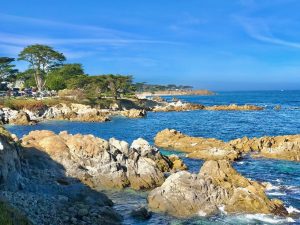 anything), we felt confident that we could negotiate the beast RV through its streets and over to the coastal Highway 1 to enjoy the famously breathtaking scenery and beach coastal views. In no time at all, we found our way to Monterey and an awaiting military RV campground located a few bike miles from the coast and old Monterey. Monterey's Fisherman's Wharf, Cannery Row, the 17-Mile Drive, and Carmel by the Sea are magnificently impressive; they are resplendent! We enjoyed the area so much that we extended through Thanksgiving for a long 5 day stop.
Again, old friends live in the area and rescued us from a night of eating-in in the RV. Mr. G and Mrs. L introduced us to one of the area's exceptional restaurants, where we regaled the night away with fine foods, excellent beer, and great chat! Monterey, like SF is on the list of return visits.
Tomorrow we head off for one last stop along Highway 1 at Morrow Bay. There's a camp right on the coast. We think we need one more day of just sitting on the beach to watch the waves, inhale the sea winds and smells before we head inland into the American hinterland and Las Vegas.
RVing Notes (Frisco and South)
The RV is both too big and too small. Somehow one can never find a damned thing in its dark recesses. It's only a 26 footer, but there must be some secret vortex that sucks in and obscures whatever it is your looking for. How is this so? But, on the other end of the spectrum, 26 feet is very close living, even for a couple of doe-eyed newlyweds, which we are not. This 'tight quarters' living really takes practice, consideration, and more patience than seems endurable. But it's doable.
Internet is vital; it's everything. Some camps have pretty good internet service, but it's hopeless when everybody is online streaming their Netflix or Youtube favorites. Fortunately, just for those moments when intermittent 'Austrian News' broadcast is unacceptable, we purchased a mobile We-Fi router with a decent plan from AT&T. It's a good idea! It's worth the research effort and the additional dollars, particularly when you have to go online for some inevitable financial transactions and really don't want your passwords streamed over an unsecured network.
RV Apps are a must. They help you find your next stop. I think I have about 6 of them to which I constantly refer (each shows different camp-sights). Join their sites and familiarize yourself with each as you'll spend plenty of time searching for the next stop,,, and you always seem to need them when the Camp internet is spread thin.
Stay tuned from Vegas! Except for those things that Stay in Vegas! Frisco and South
More Pics
[ngg src="galleries" ids="3″ display="basic_thumbnail" thumbnail_crop="0″]
Related Links
Read the previous blog, Link Here
Read this blog from the beginning, link here
Visit all the Nomading the Lower-48 Blog, link here
If you enjoyed 'Further Inland', drop a comment below.
Frisco and South