Fishing the Kvichak, Bristol Alaska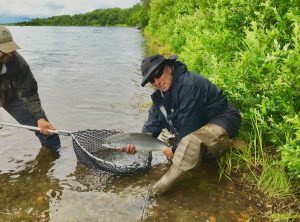 Fishing season explodes onto the inlets and rivers in Alaska every Spring and Summer.  True to form, a small group of us flew out to Igiugig (a Bristol Bay native village) and then boated down to Blueberry Island for a few days of Sockeye, Salmon fishing (catching) on the Kvichak River in Bristol, Alaska.
The lands between Lake Clark and Bristol Bay are strewn with the most gorgeous landscapes and captivating rivers.  Through-out the Spring and Summer, these rivers team with Kings, and Reds and later Rainbows; it's a fisher's fantasy!
These pristine lands are virtually inaccessible to anything other than fly-in aircraft.  That makes is a special, once in a life-time privilege to spend a week wading through crystal clear waters chasing the not-so-elusive Reds as thick schools of them constantly stream by.
The link below will take you to two 7.5 minute videos of the adventures, the first in 2019 and the second in 2022.  Enjoy, and comment if you feel compelled.  Cheers
Fishing the Kvichak in 2019
Fishing the Kvichak in 2022
Interesting Links
Enjoy the fishing, enjoy beautiful Alaska and live the Alaskan life through our experiences!   Comment, if you feel so compelled!