Camino de Santiago Adventure 2017
In April and May of 2017 we walked across northern Spain along the Camino Frances as part of the Camino de Santiago (the Way of Saint James).  Linked below, for your interest and enjoyment, you'll find: hundreds of photos; a 'cradle to grave' Journal (Blog) chronicling the entire adventure; and a 'Home Movie' capturing some of the sights and sounds along the way.   We hope you enjoy any or all of them.  If you feel so inspired, leave your comments below.
This link presents many of the photos showcasing the Journey, the countryside, cities and foods along the way.  Camino Photos Link
JOURNAL
The link below contains in PDF form the compilation of my notes and Blogs of the Camino adventure.  If your interested in reading about the preparation and planning, or experiences and thoughts along the actual way, this document may be for you.  It's long, so be patient in it's downloading.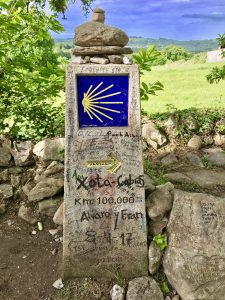 CAMINO HOME MOVIE

The link below is a Home Movie capturing many of the still and video pictures along the way.  I've attempted to place them in a chronological and narrative order to help see what others along the Way saw and experienced. This link will take you to You Tube as the size of the file makes it prohibitively large for this web-site.  You Tube offers a much better platform for your ease of viewing.
https://youtu.be/NmYQuXZj2i8
Interesting Links related to preparing to walk the Camino
My unedited Blog series from the trail Link Here
Check out our photos along the way (please do not download). Link Here
Looking for wall art of the spectacular Iberian Peninsula.  Link Here
Camino de Santiago Adventure