Miles of Friends
With the soulful music, pungent smells, and filigree iron railings lost in our rear view mirror, we sadly left the city; but were happy to not hear another imposition 'Hey Mistah, I nose where's yo got yo shoes at!?" NOLA, it's another city to add to the 'must return' list, along with recalling the exhortation to ignore those guys and their shoe questions. By the way, the answer is, 'Right here in New Orleans'! Remember that, it'll save you some grief if you ever visit! (miles of friends)
Bama Bound!
The next stop, 441 miles to the north – Huntsville, Alabama and a bucket load of friends. Along the way, Ursula expressed her amazement at how the 'South' was so much more different than she imagined. She wasn't sure what to expect, humid bayous, jungle fauna? But her mind's eye did not anticipate a Mississippi and Alabama of beautifully green forested rolling hills of elms and ash and birch, connected by innumerable rivers and streams and lakes. Exposing Ursula to the real South and genuine Southern Hospitality, disabusing her of the stereotypical views portrayed in movies and stories, was one of the trip's goals. Check! Mission accomplished.
Four hundred miles in one day is too much; it makes for a long, stressful day. However, knowing we had the comfort of friends, their home, and a home-cooked meal ahead of us, rather than a crowded RV camp, made the trip happily bearable. Huntsville is said to be the 'DC of the South'. The area is jammed-packed with government agencies (Redstone Arsenal, NASA, and slew of others) and the ever-present government-supported contractors. The intellectual capacity of the city is off the charts with, no kidding, Rocket Scientist. Because of the numerous military logistics organizations stationed there, we have many friends spread throughout the surrounding communities.
Huntsville
With the opportunity to rekindle friendships, we marked Huntsville as the right town to begin to draw down the Lower-48 exploration before heading back to Alaska. One such couple, G&L, invited us into their beautiful home. They took us in for a few days, showed us the town, and then left us to our own devices as they fled the South for the ski slopes of Colorado. Kind of the opposite of our snow avoidance plan! House sitting in a 3,500 square-foot palace certainly beat-out hanging out in our little RV for two weeks. It made for a great launchpad for a meal with J&K (Stuttgart friends) and three days of activities with S&D (Heidelberg Friends).
Sabrage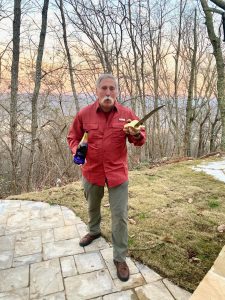 S&D may have more time in Europe than I (~11 years), and along their way, they picked up many fascinating interests. One of which was perfecting the art of cutting off the heads of Champagne bottles with a Saber, and sharing that barbaric Napoleonic custom with friends. Sabrage, that's what it's called, and now Ursula and I are Sabreur/Sabreuse IMG_1104 . Over the years, D became the Mistress of Epernay of the Champagne region in France, where she befriended quite of few of the staff of many of the traditional old Champagne houses. She is an expert in all things Champaign, and now Ursula and I are experts at nursing the brutal Champagne hangover! A visit to their elegant house overlooking the valleys and plains of Huntsville got us thinking. If ever we left Alaska, Huntsville might be just the place for us.
As soon as we arrived in town, Ursula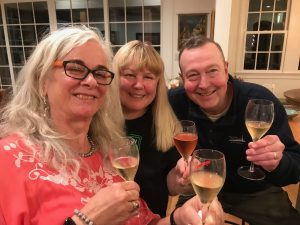 commented that it reminded her of the Bavarian countryside. Apparently, so thought Wehrner Von Braun who moved the US space program to Huntsville because it too reminded him of home. But, even if we never move there, we'll always return for a visit to the Champagne Room to experiment with those succulent and amazing vintages of 'Pagne' and even saber off a few more heads!
The Best Part of Travel
Our trip has been fascinating, insightful, and adventurous. But we both agree that the best part of Nomading is rekindling the long-standing friendships we've developed over the many years of military service. These short visits to friends home or wonderful restaurants for indulgently long conversations are what will make this trip one of our more memorable adventures, and that's saying a lot.
There's an old saying that you should throw a fish on the counter when friends visit. When the fish begins to smell, it's time for the friends to depart. Huntsville was fantastic, but after 10 days, the fish developed an odor. As we wished not to overstay our welcome it was time to move on to our final destination.
Georgia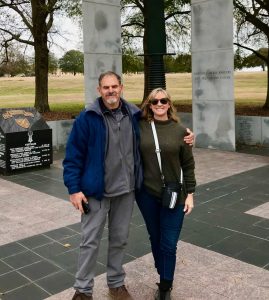 Another 225 miles to the South in middle Georgia lives the last set of friends we'd visit on this trip, B & S. B and I spent a week or two at a Special Forces A-Team Camp in Northern Thailand. We were between our 5th and 6th grades of school! Yeah, about 12 years old! That's what Old School parents did when living in Thailand, they'd send their kids off to a Special Forces Training Camp so they could enjoy a week or two of Summer's peaceful respite. It's no wonder that I am the way I am! But that makes B my oldest and longest friend. Not only did we do Summer camp as kids, but we also led platoons in the same company in the 82d Airborne Division; and tracked each other's careers for three decades.
It's one of those friendships where you don't see each other for a half dozen years, but when you meet again, it's as if you hung out the previous week. B&S's plantation home in Georgia made for the perfect terminus for this year's Nomading adventure.
Covid
On the way down, I texted B asking for a location to pick up the new 'Covid Home Rapid Test Kit .' I was feeling poorly. I didn't know if it was exhaustion from three months on the road, a bad chest cold because the snow had followed us to Huntsville, or whether the Plague had finally caught up with us. We'd been lucky so far! The idea was to test-out and visit as planned, if we were negative. If positive, go find some isolated RV camp and quarantine for a reasonable period. B&S would have none of it and insisted we come directly to the house. They stated we'd all go get tested, after dinner! That is Southern Hospitality! That is indescribably munificent and magnanimous.
It turns out I was Plague-ridden and I proceeded to feel much worse. They brought me back to the house and gave Ursula, me, and Azzuri the freedom to roam their basement (easily the size of a five-lane bowling ally). They have enough acreage of land to host a small retreat, and in the middle of it lies a 3-acre pond. If I had planned to get sick, I could not have picked a better location and better couple to be cared for.
Basement Quarantine
I spent the next few days quarantined in the basement with occasional, exhausting shuffles around the pond to catch some vitamin D and fresh air. B would text me from above announcing he was coming down with coffee or orange juice or French Toast. From a distance of over 6 feet, we'd spend a few moments of 'catching up' before he left me to massive doses of supplements and lots and lots of restless sleep. My shared evening medicine was a shot of salted caramel whiskey, just because! Through their tender ministrations (as well as Ursula's), my strength recovered in 3-4 days. After observing the requisite CDC quarantine guidance, I was almost normal.
Fortunately, B&S never heard of the 'Friends and Fish' adage, for I'm sure I stank to high hell the moment the Rapid Test came back positive. I felt quite abashed about bringing the virus into their home and in a moment of contrition attempted to apologize. Again, they would here none of it! I could have gotten sick any other place, but I got sick enroute to their house. It was as if by design. They forcefully disabused me of my concerns and told me they felt it was their task to bring me back to health. They did just that, brought me back to health, then showed Ursula and me around the area for more 'Southern Hospitality.' It was quite a humbling experience, one which I owe an immeasurable debt of gratitude for which I hope I can, one day, repay.
Homeward bound
We selected Middle Georgia as our adventure terminus because B&S invited us to leave the RV on their property. Next winter well return to Georgia to recover it when we finish out this Nomading journey. We didn't make it to the East Coast as we ran out of time and 'Umph' (a technical term for, we're tired!). There is just too much to see and do between the coasts within one short winter, so we'll turn the adventure into two winters. With the use of a dreaded 'blue tarp, we wrapped up our three-month mobile home and flew our copious bags and Azzuri back to the snow-swept lake of our Alaskan home. Our Nomading the Lower-48 Adventure for this winter is done!
Now that we're home, I'll give it a few days, then follow up with a few concluding observations about Nomading, the lower-48, RVs, and anything else that pops to the imagination. If you've made it this far into the Nomading Blog, stay tuned and see through its conclusion.
RV Notes
Slide-out
The slide out broke again. While in Texas, O and I labored through one morning to find a welding shop to mend the broken shaft and rebuild the Power Gear Slide-out system. It worked, for a week. It turns out the motor driving the slide-out is so powerful that it broke the shaft at the weld spot. Fortunately, this happened on the last day we actually slept in the RV. I had to track down the manufacturer and order new parts. They delivered it to Georgia, and it was an easy fix to reinstall the shaft and new cog….now that I knew how to do it. We'll see how long it lasts.
The key point here is that there is always a way to persevere and get broken things fixed without spending an arm and a leg, if you're willing to get your hands dirty and try to figure it out. My costs were around $200 for the effort; I guess it would have cost over $2000 to get it done at a repair shop. We'll see if it lasts.
Too much stuff
When we packed out, we had four full bags for the airport and shipped 5 boxes home through the mail. We had too much crap. There's an old adage that the contents of a backpack will multiply to fill the volume of the backpack, regardless of its size or your need for the contents. The same applies to an RV, if you let it. Be mindful of what are your needs, and then bring less. Less clothing, less foodstuff, less activity kit. Figure out what you really need, and just bring that. The only exception is tools and spare 'bench stock'. You can never have enough of the right tools or spare parts.
Enjoy a few pics
[ngg src="galleries" ids="16″ display="basic_thumbnail" thumbnail_crop="0″]
Related Links
Read the previous blog, Link Here
Read this blog from the beginning, link here
Visit all the Nomading the Lower-48 Blog, link here
If you enjoyed 'miles of friends', drop a comment below.