Galveston was Lovely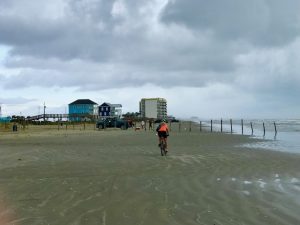 We extended another day for the winds, clouds, rain, combing for shells and, of course, the endless beaches. The surreal experience of riding bikes along the beach, dodging the shorebirds and incoming waves was only diluted by the disturbing crunch of seashells beneath the tires. (Beaches and Bars)
After a luxurious lunch at the marina 'Waterman's Restaurant', we raced a storm along the beach back to the RV Park. The dark clouds and accompanying lightning strikes threatened to cut us off from our dry, safe mobile abode. Stuck on the beach on bikes about to be engulfed by winds, rain, and lightning was going to make for a pretty fierce afternoon. But, Ms. Nature took pity and came to our aid. She blew gusts of winds and nudged the lightning obliquely out to sea, as if clearing a beachside path along the strand.
Old Galveston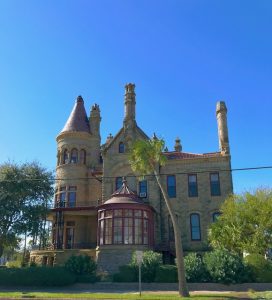 The next day, a break in the weather offered the chance to explore the 'Bishop's Palace' and see how the Gilded Class lived before the awful 1900 historic hurricane washed much of the Galveston out to sea. In another life, I might have been an architect; I now marvel at the creative industry of craftsmen in creating these wonders of elegance and ostentatious living. One day…one day, Ursula and I will surround ourselves with such luxury…..or, maybe not. But it's fun to dream.
NOLA
Galveston is another location added to the 'must return,' list, but we left anyway because NOLA waited. That's right, New Orleans, Louisiana, was the next stop 370 miles distant in our front windshield! We started early and made it into the French Quarter before darkness and Bourbon Street lit up for the evening. I'll not try to describe NOLA. Your fertile vision of this unique city, assimilated from movies, books, and friends, far exceeds any depiction I could offer. But, it has captivated travelers' imaginations since its inception in 1718 for excellent reasons.
During our brief stay, we did learn a few lessons:
More than you can Imagine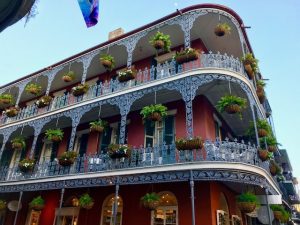 One short vacation does not scratch the surface of all there is to experience and enjoy. The city is many cities in one. Though the most famed, the French Quarter, may not offer the most fertile grounds of exploration, as there is so much competition for attention throughout the city.
Crazy Good Food
Breakfast anyone?
The Food scene is Crazy Good! Yeah, that's an understatement. You almost cannot go wrong with whatever you pick; but, you can. A lesson learned from the school of 'hard knocks,' don't order Étouffée from a bar, you might be disappointed. However, if the next asteroid is about to hit the earth and end life as we know it, go spend your modest fortune at Brennans and have breakfast. It'll be the best service you've experienced, and the dishes will blow you away. Just wonderful! but, you might have to take out a loan to pay for the visit.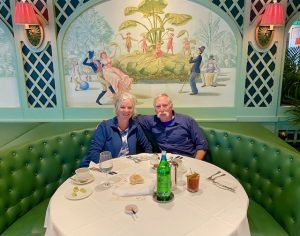 However, for a more limited investment, walk a little further up Royal Street to Cafe Beignet for, well, a Beignet or other more beautifully prepared, delectable meals. You can't go wrong.
Street Pizza
Some of the best, even on Bourbon Street. However, for the best 'Dog' or Hot Dog you've never had, march over to Frenchman Street to 'Dat Dogs' to fill up that empty stomach that's been sloshing around those blended drinks as you've searched for the next performing jazz band. They 'Rock'! Even Ursula wanted a second….and that's a tough compliment to earn!
Po Boys
Po-Boys, yes, those sandwiches that others call 'Hoagies' or 'Grinders' or 'Submarine' sandwiches. Parkways just north of the French Quarter will satisfy your Po-Boy cravings with 'Slider Fries." You'll have to experience 'sliders' to understand as the description doesn't really sound that delectable,,,, but the flavors are.
Adult Beverages
Drinks and beverages….I won't even attempt it. Just enjoy them all with discretion and maturity. And if you can't, the French Quarter is your Odyssey filled with challenges, cyclops, sirens, and undesirable suiters by the street-load.
Jazz, Jazz and Jazz
Yup, NOLA is a musical city. I can only guess that Memphis is the spot for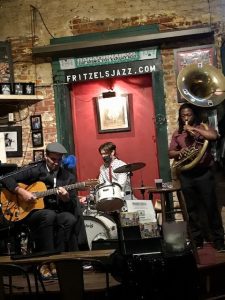 Rhythm and Blues, Nashville for Country, but the Big Easy is it for Jazz music! It's everywhere, and everywhere is bustling with tunes. Bicyclists blare 'Boom Boxes' and belt out recognizable melodies over microphones as they sail past. Children form Drum Lines with those 5-gallon utility buckets beating a rhythm on those busy streets to offer a percussive heartbeat for the city. Old men sit along the parck benches wailing out their sad elegies. And every bar offers a trio, quartet, or dozen musicians blaring out the old favorites and new, unmasked gems of Jazz.
Between the bars and clubs scurry musicians of all sizes, shapes, and colors hauling their musical instruments to the next gig. It's impossible not to leave the city with a new beat in your heart.
I apparently married a girl with a spring for a spine. She absolutely can not listen to any decent music without breaking out into dance. It's really cool to observe how her solo act lightens up and enlivens an otherwise dull place. Before you know it, all the married women are dancing at their tables or the dance floor. All the men are grateful as they sip their beers in peaceful serenity. The music scene in NOLA makes everybody happy!
Pot
In the French Quarter, the pungent aroma of Mary Jane hangs everywhere. If second-hand contact highs are a thing, prepare for a buzz. If you can possibly inhale enough to pollute your bloodstream or urine, avoid the Quarter if you have to piss in a bottle when your return to your job. But, I understand it's not possible, so get ready to breathe in the smell of pot, urine, and horse manure when the police stallions are out in force. Its NOLA!
And more Friends
We linked up with Doc A, another friend, and colleague from our Stuttgart days. She introduced us to the joys of Po-Boys and Sliders and opened our eyes to life and living in NOLA – more than just the 'Quarter'. It seems that I'm a bit of a stalker. I once visited her home in Cambodia when she and her hubby worked there; now to NOLA. I've asked her to move to Vienna so I can keep up the trend in another incredible place. Thanks, Doc, we loved your fabulous city!
All adventures must come to an end, and ours is nearing its conclusion. We've another few weeks to go, but we're preparing and planning for 'redeployment'. We've plotted out our path to take us home and the few remaining towns and people we have to see before calling the 'Nomading the Lower-48' adventure to an end – for this year. Stay tuned to see where this path takes us.
RV Notes (Nomading)
RV Camp-sights
Image of lone RV overlooking a relaxed horizon with campers huddled around a small fire, a cup of joe in their hands. This is an illusion. The reality is that most RV camps are akin to a tightly packed parking lot. The differentiation between them is how much room you have between your slide-out and their side door, or their waste disposal drain and your bench. Most RV parks are really cramped, congested places. For the most part, that's OK. You stay at the park for the location and not for the 'camping experience' or communing with nature. If you want that, look into boon-docking…..which seems to be harder and harder with fewer places available.
A good RV camp is one with an updated and clean bathroom, with plenty of stalls and security. A good camp also has a useable laundry-room, and a supportive, helpful, and friendly staff. Also the parking spot utility hook ups should match your RV outlets so that you don't have your sewer line crossing over your clean water line, etc. And perhaps the most important is a level site. All other characteristics just accentuate the good or bad of those qualities.
Wear and Tear
5,000 miles taking a toll on the RV. The slide-out broke again. I think the slide-out is not correctly aligned, hopefully causing the rail to fall off the cog. I hope I can fix it at the next stop.
Water is leaking in the sink cabinet. I need to find it and then have sufficient space to get tools back there to fix it. . I If not, I'll have to disassemble the sink to tighten up whatever is loose. Another task at the next stop.
Much like a deployment, everything breaks down in time. Entropy is a thing; you can forestall it but not stop it. Baling wire and 100 mile-an-hour tape help hold damages together until you can adequately refit and repair at the end of the "deployment."
Nomaders
Nomaders are cool. We've been to numerous RV camps by now and have yet to come accross the dick personality or asshole out of the lot of them. Sure, some will ignore you because they're just restrained folks or wish to give you the privacy that's hard to find in the camps. But most will strike up a conversation, amiably chat about all things under the sun, and offer help for any issues you might encounter along the trail.
I helped one elderly gentleman hook up his TV antenna so his partner could watch some shows. It took 5 minutes. The next day when we returned from the shore, we found a dozen hot tamales hanging on our door handle from our new neighbor. Unfortunately, we didn't get to see him again to say thanks; I suspect he was too busy watching TV. That's a pretty typical experience in the camps. Got to love it.
A few (ha!) Beaches and Bars Pics for your enjoyment
[ngg src="galleries" ids="15″ display="basic_thumbnail" thumbnail_crop="0″]
Related Links
Read the previous blog, Link Here
Read this blog from the beginning, link here
Visit all the Nomading the Lower-48 Blog, link here
If you enjoyed 'Beaches and Bars', drop a comment below.