Speaking the Language
One of my goals while living in Vorarlberg is learning German, or learning it well enough to be fluent. Although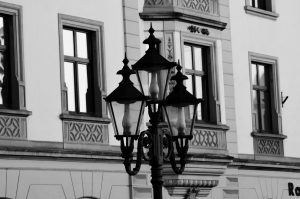 I've lived in Germany, on and off, for ten years, the experience was spent in a protective cocoon of the English language and US culture. Time spent at work was always in English, time spent at home – the same. And, most often, in the big cities of Germany, particularly ones infested with tourist, the few occasions spent trying to learn this native dialect were fruitless.
Shopkeepers and passer-bys usually respond to my barely intelligible German utterances in English. I've heard them suggest that they too wish to practice a foreign language (English). Perhaps secretly they just can't tolerate another encounter with massacred German and speaking English is the preferred option. Counter-intuitively, it's not a real constructive environment to learn German if your not really dedicated to the task. The lazy ones of us can survive quite happily with only a few memorized phrases and concepts.
The Language Gene
I've always fortified my laziness to learning German with a a few convincing excuses:
I wasn't born with the 'language' gene – Ursula was, she speaks five of them fluidly.
Everybody always responds in English – and I let them.
The German language is purposefully obtuse and complicated!
Today's Theory
It's this last excuse that I'll delve into during today's blog. Those of you that know me well know that I have a theory on everything; I'm not shy about sharing them. Today's theory is on why the Germans maintain their archaic and strikingly difficult language structure when an easier structure would be most beneficial to those of us born without the 'language gene'.
I think, the difficulty of the German language is by design. German society at one time was a stiflingly hierarchical with many social layers from the Kaiser to the landlocked serf. One's place in society was defined. Clarity of your own status, relative to others, comfortably helped one navigate through rigid and highly structuralized societal etiquette and norms. Over time the effects of liberal moderation broke down and muddied the class distinctions of birthright and position; the daughter of a Duke and son of a baker could now enjoy a cup of coffee together.
However I believe the binding glue of ageless German customs, practices and traditions, and even social hierarchy has endured. Even in the language, I've discovered, 'Class' does matter; the commitment to a 'Classless' society is superficial. The distinction between applying 'Sie' and 'Du' between conversationalist is not restricted to age differences, but also Class differences. Many native speakers may be hesitant to admit it but most will still follow the traditional norms of respect ('Sie') for 'higher classes' until bidden otherwise. As such protocols require a more subtle approach to discovering another's class in a 'classless' society.
How to detect social class?
So, how does one in modern Germany detect 'class'? – through the language itself. In days of old, so my theory goes, only the upper crust of nobility had the time and resources to educate their young well enough to speak proper German like princes and princesses. The working, lower classes, and serfs spoke a less distinguished version of German. They had fewer opportunities at education.
To learn correct German grammar and speak the proper inflected form in a specific and logical fashion takes an educated mind with the ability to memorize and practice, practice, practice. Speaking fluidly and fluently, while correctly conjugating in the Nominative, Accusative or Dative and even the Genitive parts of speech requires the astute mind most often trained with years and years in the higher educational system affordable only to the higher 'Classes.' A perfectly rolled "R" sound just sounds like 'Class'! Times continue to change and perhaps this reality is less true with modernization and a need for a highly educated populace, but the old traditions still linger.
Does it matter?
So, while the distinction between the classes appears to have melted away the real truth is that the distinctions remains in the language itself. Over the years, Germans could have eased the rules on their grammar. Does it really matter if a noun is 'Der', 'Die' or 'Das' and that their adjectives be conjugated accordingly? Yes, perhaps the language is enriched by these distinctions, but, it does not make the language more functional as a means of basis for communication. Even the Chinese with their aged language modernized their characters as little as 60 years ago.
The German language, it's difficult, and the German's like it that way. A German can quickly clarify their status relative to another's based on their mastery of the language. So, as such, it's a useful tool and not likely to change anytime soon. For that reason, those of us less ennobled souls, born without the language gene, a functional memory or graced with an abundance of free time, will have to stumble through as we remain indistinct when using Der, Die and Das and welches, welcher, welchen and welche distinctions so we can properly order a beer and brat and find a bathroom. We will always be Auslander's with no class in a Classless society.
Then there are the dialects. But that's a whole new Blog.
Interesting Links