We've started. 7 Nov.
Success! We've threatened to hit road by RVing and visit friend for 3 years now! We're doing it, finally. Two States, two visits and counting! (Escaped and on our way!
Short Note today to keep the Blog alive and capture a few experiences before we hit the Oregon coastline tomorrow.
The RV recovery at the Port of Tacoma was a non-issue. Our first ever use of Uber was a snap as Elaine regaled us about the latest news of Seattle and then dropped us at the Tote Office. 15 Minutes later we had inspected the faultless delivery, found a gift bottle of 'Reserve' Rum safely tucked away by our 'Friend at the Port', and long time bud, Mr V. The First stop was to the gas station where I immediately questioning the wisdom of traveling across the continent with a vehicle that only gets 6-8 miles to the gallon! Bemoaning gas prices as we filled up the near empty tank I decided to accept that 'it is what it is' and 'life is short'. We headed south to the American Lakes Campground.
First night back in the RV
What a peaceful spot. We both had forgotten how beautiful we found Washington's bountiful and variegated fauna. Unlike home, there are trees of every shape and size and hue. When Fall hits, the hills and side streets are a Kaleidoscope of colors. The RV park alongside the lake was quiet, uncrowded and the perfect spot to re-rig the rig for onward travel. Lots to do the get the RV out of the shipment mode and into the travel mode. Most importantly was to stock up on fresh fruits, vegetable and intoxicants! It is a vacation adventure, after all.
As much as we remembered how much we loved the environment of Washington, I quickly remembered what I did not like so much! The following morning as I prepped the RV for movement….the dreaded Seattle area rains deluged us. Yup, it sucked,,,,having to rig up the bikes, resolve a few high tire pressure issues and just do the things you need to do hit the road, was a drenching experience. It's Washington!
Catching up with Old (and longtime ) Friends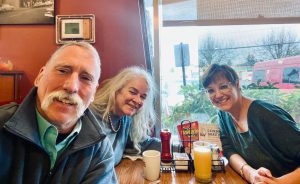 First stop was back into town to catch up with Ms A, who we had not seen since leaving Washington State in 2004. We're always amazed at how some people never change, they retain their youthful appearance and attitude in spite of the ravages of years between our visits. It was good to see A again and rediscover her life is filled with grown children, a new romantic interest and vibrant future. Thanks A, please come up to visit us in AK soon!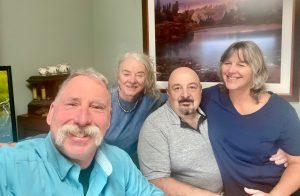 Yacolt Wa, just North of Portland was the next stop as we invaded the estate of long time college (Wash State Univ) classmate Mr L and his beautiful mate, Ms C. Mr L has done well for himself since we left school so many years ago and he introduced me to the Tesla experience. My first drive of Elon Musk's wonderful imagination and efforts was in the Tesla S class car. As I hit the gas peddle on the long, but winding back road, I damned near broke my neck. Zero to Light Speed in no time flat! Damn! How do they do that!?
Riding the Lightening!
A lot of time catching up on lost time (15 years?) and a short walk along the river and into the forests was invigorating and the perfect beginning of what we hope to be exciting and adventurous foray into the Nomading experience. Our lives are all filled with friends that we can leave unattended for years and years…but when we reconnect, it's like the only change was somehow we got older. Everything was as it was. These types of seamless rekindling experiences is what makes special friends special.
At this point, I think we're about ready to break away from the safety net of friends and known places and head south. First stop tomorrow, Cannon Beech along the Oregonian water front.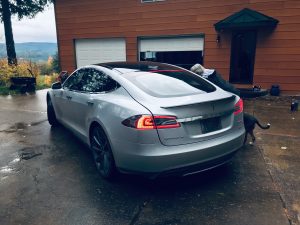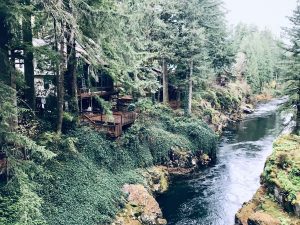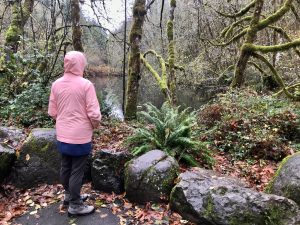 Stay tuned – more to follow
Cheers
To catch the previous Blog, Link here!