Going away for a Year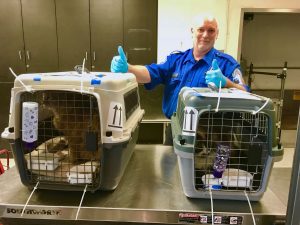 What could be more simple! Pack up the cats and fly to Vorarlberg; just hang out for a year! It's an easy plan, until you get into the details – then, perhaps, it's a naive plan. We put a lot of effort into our Voralrberg Planning, and it paid off!
As neither Ursula nor I are young, nubile twenty-something-year olds with no possessions other than a back pack and interests beyond today, one would imagine there are a few complexities with this idea. But, our advantage over some wide-eyed kids is that we have time, experience and some funds put away for just such a venture.
Having said that, the challenges seemed to deepen the more we developed the plan. The five considerations to overcome were:
Challenges
A home in Big Lake requiring security, maintenance and oversight.
A place (legal) and permission to stay and means of transportation in Vorarlberg – Cats (even thought they have Euro passports).
Resources.
Ursula's Green Card requirements.
To address each concern, we approached the endeavor somewhat like a military operation, with a very basic deliberate planning process, 'Operations Order', and a POAM (Program of Actions and Milestones). Naturally, it evolved every time we sat down over coffee to coordinate our efforts. Ursula had her tasks focusing on Cats and Austria. I had mine; Big Lake house and resources. The Green Card and Visa concerns were a mutual effort.
Each of these 'lines of effort' required multiple detailed 'phases, branches and sequels' as well as 'coordinating instructions' and 'schemes of maneuver', but in an attempt to preserve you as a reader, I'll only bulletize the supporting efforts:
Big Lake House
Security and monitoring systems plans.
Occupation plan. – Physical preparation.
Vehicle and toy storage; supporting insurance arrangements.
Utility and payment plans.
'What happens when something breaks' plan.
Mail collection plan.
Many more…….
Austria
Finding an apartment in a desirable place to live.
Transportation to Germany, to Austria and in-and-around.
Finding out how to stay beyond the three month tourist visa.
Season Ski passes.
Driver Liscence exchange program.
Language requirements and education.
Cats
Transportation of two cats with all the right documents and immunizations and stamps.
Resources
Transferring funds to the right places to be readily accessible.
Ensuring credit and debit cards function overseas.
Establishing insurance plans to work for here and there.
Green Card issues
Identifying the 'no-kidding', real rules sets for being out of the country for extended periods.
Setting conditions to preclude re-entry issues.
Putting plans into the 'execution' phase
Yup, this list is really, really basic, and at first blush, it also appears a bit daunting. After breaking it down into little chunks, each of us persisted with their details. Over many months of Sunday's we come together over coffee and see how far we'd come and what obstacles still lay ahead….and continued to crunch out tasks until we were comfortable with our readiness.
Not surprising, though happily, when it came time for execution everything fell into place beautifully. With last minute help from dear friends our trip from the Valley to Anchorage international was worry free. The Cat check in at the airline counter(s), though stressful, went easily enough. The flights, though our initial biggest concern, were problem free. The rental car awaited us in Frankfurt (though at extortionist prices) and our friends warmly received us in Holtzgerlingen to feed us and bed us down half way to Austria. The final leg into Austria was a breeze and the cats, though frazzled from the journey, were happy to return to the old smells and sights of our little flat in the Alps.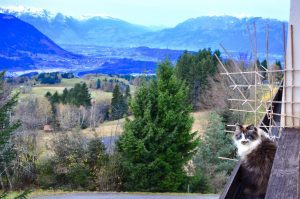 Within a few days we climbed down our mountain to see for the first time the Feldkirch Apartment we had rented from long distance. Our new landlords were incredibly friendly and helpful and the apartment was much more than we could have hoped for. It was fully furnished with a living room, kitchen, bedrooms and all; it had plenty of light, a balcony and a view. With a storage room in the basement and covered car garage, Ursula scored big!
When a Plan comes together….
Thus far, all the planning had come together and though exhausted from the efforts, we couldn't be more pleased that our adventure in Vorarlberg was starting out so well. Unfortunately, all tides change, but that's for another blog.
With the preliminaries of a preamble, planning and getting here done, stay tuned as the adventure blogging really begins.
Interesting Links