Zimmer's Christmas Letter – December 2017
Dear Friends,
It's been several years since we've penned Christmas cards or one of the ever dreaded (but much appreciated) seasonal form letters.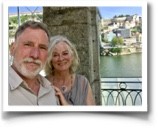 While undergoing our transition from the military there never seemed much to say. However, with much time for reflection, we realize the most important message we could possibly pass along is that we think of you often and truly hope you and your families are well and happy.
We live in turbulent times; it's easy to be drawn into the acrimony of public discourse and fail to focus on that for which have to be grateful. Worse, is that the divisiveness that pervades our public commons may distract us from attending to those 'little things' that bring us together and encourage others to the same. During this abbreviated Season of Peace, please know that Ursula and I wish you Merry Christmas filled with joy and the warmth of family and close friends. Within your very busy lives, we hope that you're able to carve out moments of solitude and reflect on the value you bring others and what others bring to you; and have the good sense to be grateful for both. Merry Christmas and a very formative, exciting and fulfilling New Year.!
Update
By way of of a quick update, here's what we've been up to:
We retired to Alaska with the aim of establishing a 'base of operations' from which we could extensively travel and engage in worthwhile and interesting pursuits. We gave ourselves three years to get there. In that time we:
– Renovated our cottage on the lake
– Joined our community with incursions into its cultural and political activities
– Examined and pursued many interests that remained dormant during our busy work years (fishing, kayaking, mountain hiking, snow machining, X-country ski, the 'retiree's wood-shop', painting, reloading and more…)
– Travel
– Made several dear Alaskan friends
Almost on cue, three years to the month, we 'certified' our Big Lake house as a functional 'base of operation' and decided to travel even more extensively in Europe. We're currently into a 'short-tour' to Austria to discover life overseas without the protective cocoon of a military community and to do all those things that were barred due to limited free weekends or a 200 mile travel curtailment. Thus far it's been very educational and rewarding to live in Ursula's hometown with family and lifelong friends.
Though we have no clue what it will hold we're both open to and excited for our future. We'll spend this time to develop our next 3-5 year plan with the aim of living up to the motto that 'a life worth living is lived well'. We hope that you are a part of it.
Ursula and Darren.
P.S.
If you're interested in more details about the last few years, check our our Web-site zimmerslanding.com where we've tried to capture many of our activities with photos and blogs (yes, learning to set up a web-site was one of those 'dormant interests'!)
Contact info:
Darren. zimmerdb@yahoo.com or zimmerdb@gmail.com
Ursula. UMFDBZ@yahoo.com or UMFDBZ@hotmail.com
Addicted to Facebook (search for our names, FaceTime and messenger under the email addresses)
Current tel nos and address are Austrian numbers…..ask, if you really want them
Zimmer's Christmas Letter – December 2017
Additional Links