A New Adventure – Nomading
I've decided to start the new RV Nomading Blog in mid-stream, already at a galloping pace. I'll embed the preamble, introductory information in the text below over the next few days, so I can keep apace of this adventures' turns of events.
Day two of the shake-out RV run-up to Alaska.
Much improved over day one! Day two didn't include a catastrophic tire blow-out on the highway just 30 miles from our start point; so, that's an improvement! In two days, we've traveled over 650 miles in a 26 foot RV rig. Learning by doing is always adventurous and nerve-wracking!
Today we crossed through Iowa. What a beautiful countryside. There's much to admire of the residents and their forefathers for crafting this green heaven out of what once must have been a dreary plain. This is Big Sky country. Facing below these big blue skies are fields of green corn with golden husks as far as the eye can see, and beyond. This is American's corn basket, and the people that bring it to us are as good as they come. The highways are straight and trimmed, and the myriad of farm/homesteads are as picturesque and Americana as a Norman Rockwell painting.
It was a sight to behold as we zipped by the countryside from inside our new (old) RV doing a steady 65. We didn't stop. Other than the fields and natural beauty, there's not much to see. I suspect other than tending the fields and playing Basketball, there's not much to do.
We punched through to South Dakota and took a rest at a hot, lonely RV camp not much further than the middle of nowhere. Our country is big!
Day One
Yesterday, we had barely recovered from our journey out of Austria, up to Frankfurt and across the pole by one of Condor's airplanes. While the flight itself was uneventful, the ground game to get aboard the aircraft was as painful as people and inadequate systems could make it. Being a cheap bastard and buying the thriftiest cross-Atlantic fair comes at an awful price. One must discover internal reserves of patience just to not commit homicide in the airports. Condor's air-game it OK, pretty good sometimes. Their ground-game could not be worse. Somehow we survived the 30+ hour Odyssey, we usually do, but not with good humor.
We arrived in Pittsburgh, and the car and hotel room awaited us. As good as the Suburban was (it was a monster of a mochine!), the hotel was it's opposite. No worries, we needed sleep and not much more. After driving 5+ hours from Pittsburgh to Granger Indiana, we recovered our new (old) RV and pulled it out of storage and set up camp at the nearby KOA RV campground. It wasn't until a day later that the cats recovered from their travel stupor and lost the crazed look of wild beasts! All was good again,,, until we headed west in the RV.
Uh-Oh!
Thirty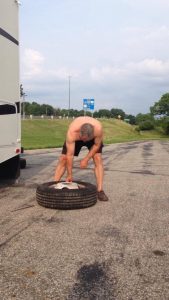 miles into the journey, while familiarizing ourselves with the peculiar creaks and groans and motions of this beast, we were rudely adrenalized by a new sound. The sound of a minor explosion from below, then the sound of rubber sandpapering its way across the bottom of our RV and finally the bump-flap, bump-flap, bump-flap exhaust of a disintegrated tire. All this at 65 miles an hour on a strange highway thousands of miles from home.
Fortunately, this minor disaster occurred near an exit, and we were able to negotiate the beast between the off-ramp and active highway without catastrophe. The other 5 wheels kept us upright. I checked the wheels and discovered that the tread of left outerdually was eviscerated. I'm not sure why, lots of conjecture, but I did know that the remains were in the middle of the highway 300 meters back. I had to get it off before somebody ran into it and met a fate worse than ours.
I guess seeing some dude in a bright green shirt with gym shorts and flip flops dragging the 5 foot remains of what used to be a tire off the middle of a Federal highway is what prompted somebody to call the police. This is what they told me two hours later when they stopped by to visit!
So, we managed to get the RV off the highway and into a 'commuters parking lot' behind the toll booth. This is where I discovered that my jack was too short to lift the RV and my arms and ass too weak to break open the rusted lug-nuts that were obviously installed by a pneumatic wrench set too high. It was time to check out the insurance Road Side Service Plan.
Without too much detail, it all worked out. Within 3 hours, Jay, from somewhere south of Chicago, on this 18th hour his job day, hooked us up. He changed out the spare, and we were on our way. Somehow, we still managed to get 300 miles of road behind us.
Off and running
Around 6 O'clock, we found ourselves in Iowa City and with no idea on where to stay….so, we opted for the 'Wall-Mart Option.' And it worked out splendidly. There's nothing more revealing about how life could end up than sleeping in a Wall-Mart parking lot and waking up to shower there in your own auto (RV). It's all kind of mesmerizing, but, oddly, refreshing!
After many Wall Mark purchased (to include a new tire) we were off again on the highways and byways until we landed at this little patch of hot parking spots in the middle of nowhere South Dakota. What a past few days it's been!
Update, we're on day 6 now, it's been a busy 4 other days driving and visiting friends since I wrote this. I'll catch up later with some notes about the wonderful time in Rapid City with dear friends while knocking out a few more of the 'Bucket List' items, to include: Sturgis Bike Rally, Crazy Horse Monument, Mt Rushmore Monument, Deadwood city visit and driving through the Black Hills and hiking around the mysterious Sylvan Lake.
It was a most awesome visit. More on that later, or this will never get posted.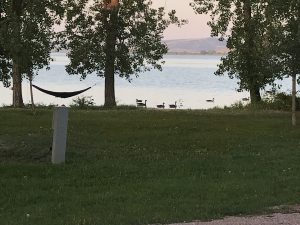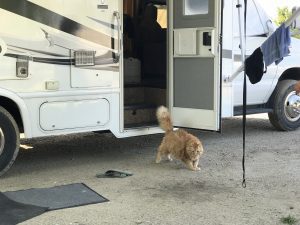 Interesting Links