Back in Phenom Phen
Conjure up the most amazing and astounding adjectives you can, and they might be sufficient to describe the Wats and sights in Angkor Park; they were selected as a 'World Heritage Site' for a very good reason. The third day in the park (and final entry in this Cambodia touring blog) was spent exploring four splendid Wat sites a little further out than the 'Grand Route'. These were unique in that they were smaller, fairly well preserved (compared to a few of the others) and still had the adornments and bas-reliefs in place. These were older than the others Wats in the Park but as they were relatively undamaged they gave one a small appreciation for what the more grand and regal Wats looked like in their hey-day.
The Pink Wat
Banteay Srei temple is constructed of a red or 'pink' stone and is the most well preserved. The Hindu lore inspired carvings were incredible and still easily in evidence. Compared to the other sites, it was small, one could stroll through from end to end in under 60 seconds. But, with the intricacies of the carvings and adornments, it was easy to take over an hour standing agape, trying to take everything in. But there was too much, the senses quickly were overwhelmed with all the minute and astounding details and it began to all blend together.
Tuk-Tuk for the day
From the Northern-most Wat on today's tour, Mr Hak (my new Tuk-tuk driver) headed south to Banteay Samre. It too is an older Hindu site and very well preserved, relatively speaking for an early 12th century structure. It's about twice the size of Banteay Srei, but again, one could spend hours imagining what it was like 900 years ago. It too is surrounded by a moat and high protective walls. Inside are a half a dozen filigree towers interlaced with walking platforms lined by the innumerable dragon balustrades and sunken courtyards. Both of these sites were quickly becoming my favorites (aside from Angkor, which is just in a different league).
Off to the Roluos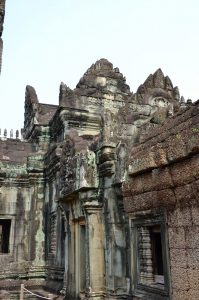 A little further on, Mr Hak and I sped away in the sweltering sun (32 degrees Celsius – about 90 degrees). Even Mr Hak complained as he drowned in the humidity while negotiating the little tuk-tuk between trucks and motorcycles and pedestrians. In the south are some of the original temples from the beginnings of the Khmer Empire, referred to as the Roluos area. These were built around the 9th century (879 AD, or so).
Bakong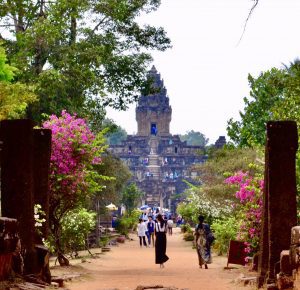 The Bakong Wat resembles a step-pyramid structure with a few towers on the flattened top and adorned with stone elephants and lions. As an early work it is pretty amazing, one can see that it was the beginning of a cycle of Wat constructions that culminated in Angkor. The temple surroundings were beautiful, but the number of young tourist engaged in the self-engrossed, irritating habit of posing for 'selfies' was not. The pyramid was covered with people looking for just the right spot for their personal glamor shots, irrespective of the history and former pageantry surrounding them. I don't get it, but, perhaps I'm too old.
Preah Ko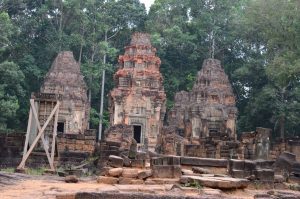 The last site, Preah Ko Wat, was perhaps the oldest of them all and showcased another series of towers on a raised dias or stone platform. It was kind of cool, but 6 hours into a 92 degree day helped make this visit a short one. It slowly ended with a dusty and bumpy ride back to the hotel for a shower and AC. Mr Hak was equally happy to see the end of this tourist day.
Enough Already
With 21 wats (or sights) visited over three days, it was enough! The ABW syndrome (another bloody Wat!) wore me out and it was time to head south to Phenom Penh and an awaiting airplane to deposit me back in the snow and ice of Alaska. Having left just enough unseen, there's plenty of reason to return to Siem Reap one day and see the rest. Actually, one could spend a lifetime studying these sites, and perhaps many more to be uncovered, and not really see everything. The ancient Khmer Empire must have been a fascinating place and time (if you were a king!).
Notable Mentions
I found the female companion set to the omnipresent tuk-tuk driver – the tourist-stand sales ladies (and children). Insomuch as the tuk-tuk drivers are accomplished social engineers, they're amateurs compared to the ladies that surround the Wats and sell everything possible to the weakened and tired tourist. Whether they're pushing water, coconuts, scarfs, skirts, shirts, guidebooks or a warm meal, the fierce competition has honed their hawking skills to perfection. Their ability to wean their way into your heart and make you feel bad for turning down their wares is impressive. I discovered that many of them, even-though they're uneducated in the formal way, speak up to 4-6 languages.
I asked one the ladies how she learned, and she modestly shrugged her shoulders and indicated it was through 'On the Job Training'. With so many tourist from so many countries, if they wanted to succeed they had to speak enough English, Chinese, Japanese, German, Thai and Spanish to conduct their business transactions.
First they capture your attention, which is a tough do when there's a dozen of them and you want absolutely nothing but to get away. Then they warm up to you by inflating your ego and then attempt to solicit a promise to see them after finish seeing the Wat; they're strategically positioned so you have to walk by them again. I learned quick to never promise anything, their faux disappointment and cute petulance when finding you was too much.
One must be made of stalwart material to get away without a lighter wallet. If the Sears chain of stores back in the states had just a half dozen of these women in each shop, they'd be on equal terms with the selling power of Amazon rather than going out of business.
Enjoy a short VLog (3:45) on my visit to the Wats
Or, a much longer (21:34) of the Cambodia Adventure
On the Way Home
So, today I'm sitting in the Airport in Phenom Penh (better selection of routes home than from Siem Reap) awaiting the return home Odyssey. The return trip originally began with a 36 hour jaunt through airports and airplanes. But, due to self inflicted misery caused by personal stupidity, I get to spend another 14 hours in the airport systems. What a joy!
With so much more time on my hands, the Cambodia touring blog should grow to cover much of what's been observed, yet unrecorded. Stay tuned if you have the interest.
PS, – same comments as before regarding the editing and grammar of this posting.
Wikipedia comments for the remaining four Wats
Banteay Srei. Oddly enough, Wikipedia didn't have any write ups for this wat, even-though it's a huge favorite of many tourist.
Banteay Samré (Khmer: ប្រាសាទបន្ទាយសំរែ) is a temple at Angkor, Cambodia, located 400 metres to the east of the East Baray. Built during the reign of Suryavarman II and Yasovarman II in the early 12th century, it is a Hindu temple in the Angkor Wat style.
Bakong (Khmer: ប្រាសាទបាគង) is the first temple mountain of sandstone constructed by rulers of the Khmer empire at Angkor near modern Siem Reap in Cambodia. In the final decades of the 9th century AD, it served as the official state temple of King Indravarman I in the ancient city of Hariharalaya, located in an area that today is called Roluos.
Preah Ko (Khmer: ប្រាសាទព្រះគោ) (Khmer, The Sacred Bull) was the first temple to be built in the ancient and now defunct city of Hariharalaya (in the area that today is called Roluos), some 15 kilometers south-east of the main group of temples at Angkor, Cambodia. The temple was built under the Khmer King Indravarman I in 879 to honor members of the king's family, whom it places in relation with the Hindu deity Shiva.
Link here to jump to the first entry of this blog.
Cambodia and Angkor Park Photo Gallery
Angkor Park theme T-shirt designed by the 'Cottage'? check out this link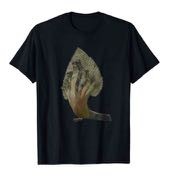 Care to comment on the Blog or Adventure? Jot down your comments in the form below – thanks